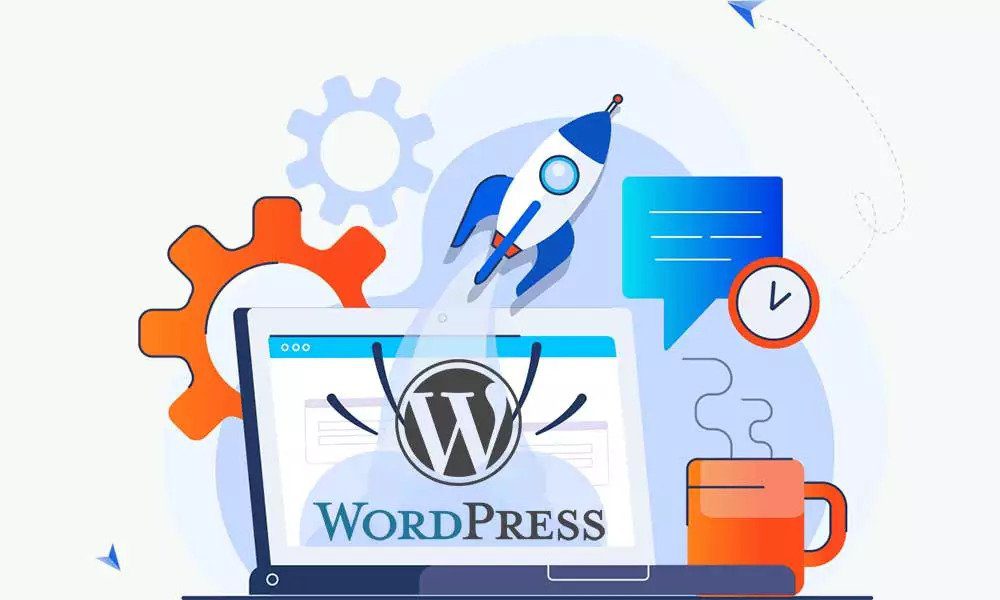 WordPress maintenance and support services has become a crucial part for websites nowadays with the growing demand for website development. WordPress is the world's most popular content management system powering 34% of all websites on the internet. WordPress software itself is free (thanks to the GNU General Public License), but running and maintaining a WordPress website comes at a price and its time consuming. Here is why WordPress maintenance and support services come for.
You can start a blog for free on WordPress.com and never pay a penny to keep it going. But in order to be truly effective, you need to treat your WordPress website as a business investment.
From managing updates and backups to dealing with security, optimization, and custom development, running a WordPress site can be a challenge if you're not technically inclined. And if you are technically inclined, it can be time consuming running multiple websites.
In recent years, there has been huge growth in the number of agencies offering maintenance and support for WordPress sites, kind of like one-stop shops that can take over the running of your website after launch, or even make simple one-off tweaks and updates to your site.
In this post, we'll take a look at the services available, what they currently offer, and what to consider when choosing the right service for your needs.
What is WordPress Maintenance and Support Services?
WordPress maintenance and support agencies typically offer some or all of the following services:
Custom development – including small tweaks and larger more complex design changes
Debugging website issues
Updates of WordPress core, themes, and plugins
Backups and security
Performance optimization
Website monitoring
Site migration
WordPress Maintenance: Hire a Professional or Do-It-Yourself?
For those who desire to create a WordPress website and lack the skills themselves or on-staff, the costs of website design and other ongoing WordPress maintenance costs can be a major consideration for getting started.
If the website requires simple needs, the option to DIY (do it yourself) seems like the lowest cost option.
But even if you manage to cobble something together after endless hours of trying to figure out how to customize a WordPress theme for the first time (and the costs associated with accessing that information), the resulting design will likely suffer from a lack of professionalism and following best practices. That's why you hire an expert to handle this type of task.
So let's assume that you're going to pay for someone else's expertise.
Hiring a Web Developer or Outsourcing
Hiring freelance front-end web developers can cost as low as $10/hour and go as high as $150/hour.
Since that range isn't super helpful from a budgeting perspective, let's dig into these numbers a bit more.
Salaried Employees
According to ziprecruiter.com, the average Junior Web Developer's salary in the United States is $49,500 per year. According to Indeed.com, the average salary for a Senior Web Developer is $95,075 per year in the United States.
Agency or Freelancer
If you're working with an outside agency, Comentum claims that web development can cost anywhere from $5,000 to $300,000. Again, there's another huge gap between these figures. This is because web development costs depend on the different underlying factors that need to be considered for a given project.
A few factors that influence web development costs:
Scope of the project: Is the project for a single-page website or an enterprise-level website project? Are you using a templated theme or are you commissioning a 100% custom website (which will require additional ongoing maintenance)?
Freelancer or agency? Besides expertise and experience, your project cost may also vary depending on whether you're hiring a freelancer or an agency. Usually, agencies work as a team (you're paying for access to a developer, designer, project manager, etc.), while freelancers work individually on one specific task (web development, in this case).
Platform: Windows and Linux are the platforms generally used for web projects. Windows is more expensive than Linux because of licensing costs (Linux is open source, like WordPress). Windows' database, SQL Server is also more expensive than MySQL.
Although these factors relate to the idea of starting a new website, they can also be useful in budgeting for ongoing WordPress maintenance.
Front-end vs Back-end Web Developer
Front-end and back-end web developer costs also vary in terms of different project factors that need to be considered. As a refresher, front-end development involves elements of design and structure that can be seen/interacted with. Back-end development involves anything done server-side.
The cost of hiring a front-end developer may vary depending on the scope of the project, the experience/expertise of the developer, and their location. The cost of hiring a back-end developer must also consider the project scope and person's location, as well as the platform you want your website built on.
Location correlates to pricing in that many web developers work remotely and it's not hard to connect with web developers in developing countries with lower costs of living (who charge lower prices). Another note: front-end development generally makes up a lower amount of hours than the back-end development of a complete web development project.
To give a very basic idea of the cost differential between these two types of developers, consider that on Upwork, hiring front-end developers with basic skills ranges from $15 to $50, while hiring back-end developers with basic skills ranges from $30 to $50+.
Using a WordPress Maintenance and Support Service
Once your new website is launched, you also have to consider the cost of ongoing WordPress maintenance.
WordPress's core version, the theme you're using, and the plugins you've installed will require frequent updates—and sometimes this can break various elements of your website's design or back-end processes. Additionally, while WordPress offers many tools that allow those who aren't especially technologically-savvy to make minor content updates, you might also want to consider hiring ongoing help to assist with these changes.
If your chosen web developer is too high-budget for your ongoing maintenance needs, or they're just not interested in the maintenance aspect of web development, you might instead consider working with a WordPress maintenance and support service.
Here are a few of the more popular options, associated costs, and what plans cover:
1. SiteNotion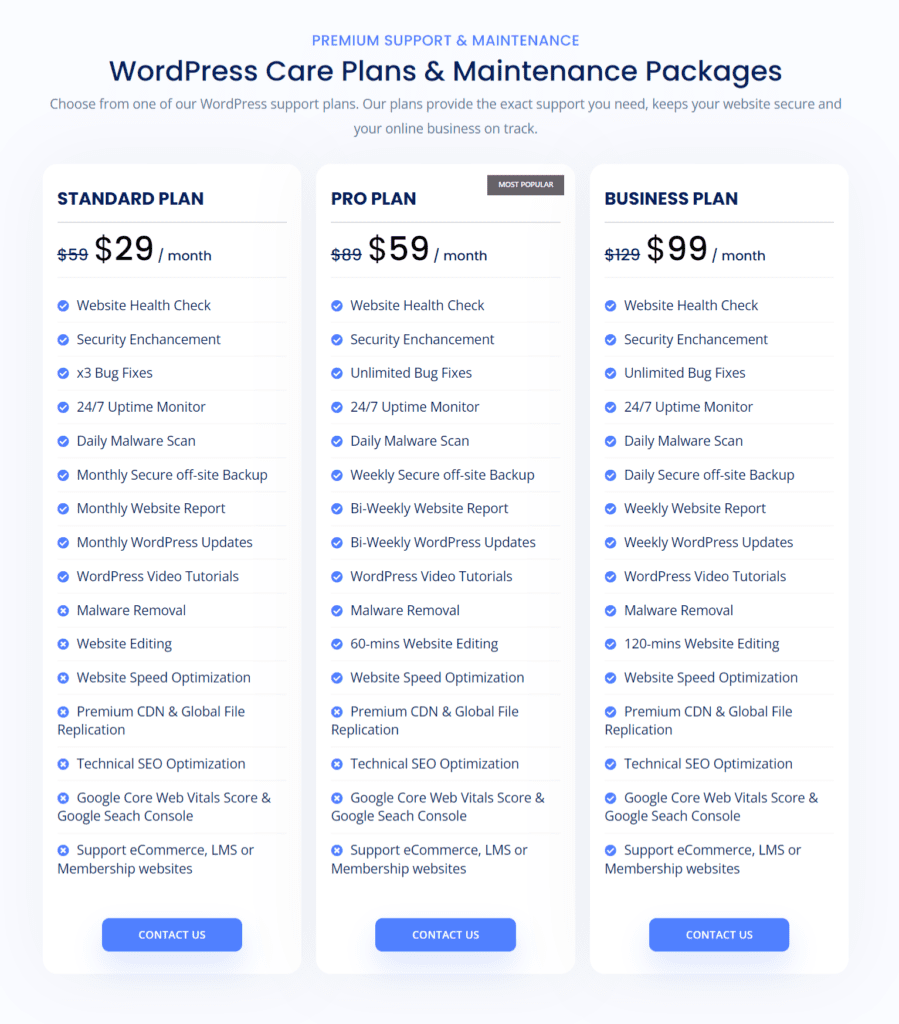 SiteNotion offers a wide varieties of services including WordPress Managed Hosting, WordPress Website Design, WordPress Maintenance and Support Services and more. SiteNotion will take care of any fixes or development and provide maintenance, updates, and support for your websites.
SiteNotion offers 3 type of plans for the WordPress maintenance and support:
Standard Plan ($59 per month) – This plan mainly for a small website does not need any support. With this plan, it offers a standard services like uptime monitor, monthly plugins updates, monthly backup and more.
Pro Plan ($89 per month) – This plan is for a medium or a website with regular usage and medium traffic. Services offered on Pro Plan are about the same as Standard Plan but with a weekly basis. On top of that, it also includes malware removal , website speed optimization and 60 minutes of website editing.
Business Plan ($129 per month) – This plan is specifically built for a high traffic website that need high security and best performance. It focuses more on Premium CDN & global file replication, technical SEO optimization, Google Core Web Vitals optimization, and support for ecommerce or membership websites.
2. WP Site Care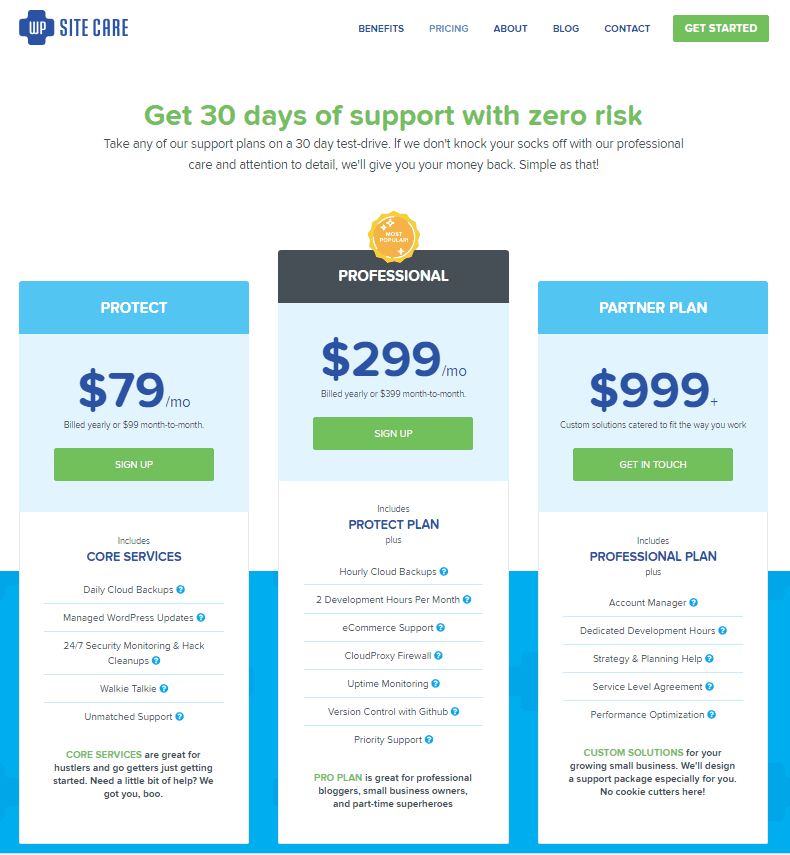 WPSiteCare offers WordPress maintenance and Support plans that start at $79/month (if you're paying annually), $99/month (if paying by monthly basis). Maintenance tasks include security monitoring, upgrades, support, and backups.
There are two basic monthly packages to choose from when signing up:
Protect Plan: The entry level plan priced at $99 per month ($79 per month yearly), which includes the full set of standard features.
Professional Plan: Priced at $349 per month ($299 per month with annual billing), this package includes more advanced offerings, such as performance optimization, a monthly SEO audit, e-commerce support, uptime monitoring, and a staging environment for your site.
3. WP Maintainer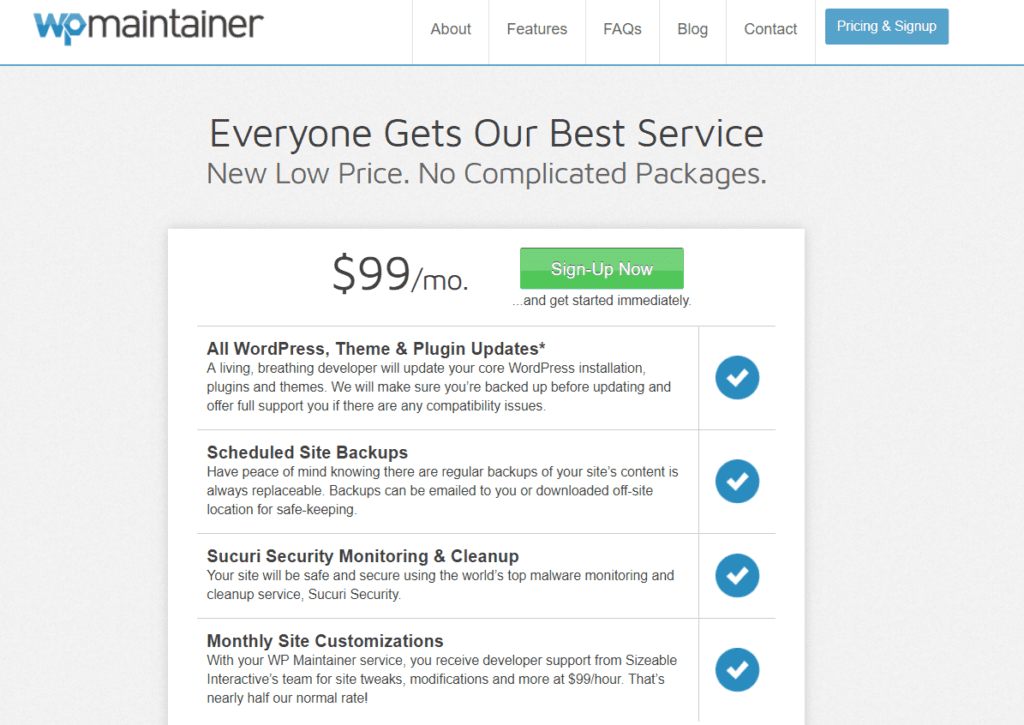 WP Maintainer offers WordPress maintenance and support services for $99/month, including security monitoring, upgrades, support, and backups. For more complex web development needs, you can also use this plan to gain access to their team of web developers for the reduced rate of $99/hour, which gives you access to their full range of features including the following:
Constant updates of WordPress core, themes, and plugins by qualified developers
Regularly scheduled backups of your site
One hour's worth of maintenance tasks per month
Site monitoring from the best in the business at Sucuri Security
As part of the setup process, you'll also receive free migration support and a complementary site audit and security review
Once you're signed up to the package, you can submit additional requests to WP Maintainer's team of developers at an hourly rate of $99 and take advantage of discounted development costs for larger projects.